Oncothermia treatment compatible with intravenous Vitamin C
Vitamin C is a basic nutrient in intracellular oxido-reduction functions. High doses of this nutrient decrease cell proliferation in cancer. In addition, it improves quality of life and chemotherapy-related side effects. Intravenous vitamin C is used in routine oncology clinical practice for its anti-tumour and immune modulating action.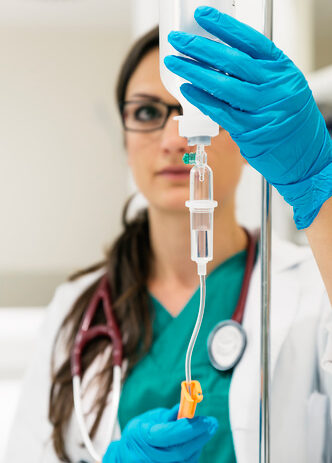 ---
Reference
Riordan HD, et al. Intravenous ascorbic acid: protocol for its application and use. P R Health Sci J. 2003 Sep;22(3):287-90. PMID: 14619456.
Stephenson CM, et al. Phase I clinical trial to evaluate the safety, tolerability, and pharmacokinetics of high-dose intravenous ascorbic acid in patients with advanced cancer. Cancer Chemother Pharmacol. 2013 Jul;72(1):139-46. doi: 10.1007/s00280-013-2179-9. Epub 2013 May 14. PMID: 23670640; PMCID: PMC3691494.
Hoffer LJ, et al. High-dose intravenous vitamin C combined with cytotoxic chemotherapy in patients with advanced cancer: a phase I-II clinical trial. PLoS One. 2015 Apr 7;10(4):e0120228. doi: 10.1371/journal.pone.0120228. PMID: 25848948; PMCID: PMC4388666.
For more information see the link or visit Riordan Clinic.