Stomach cancer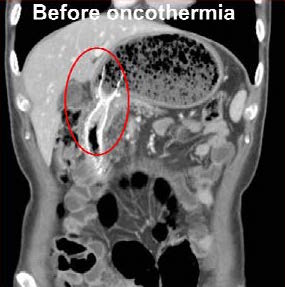 Stomach cancer in diagnosis
After 12 sessions of Oncothermie
Researcher:
Prof. Dr. TaesingJeung.
Hospital:
Department of Oncology
, Kosin University Gospel Hospital, South Corea.
Patient:
50-year-old man.
Diagnosis:
Gastric adenocarcinoma (G2).
Treatment:
Subtotal gastrectomy in major of 2009. In April 2012 after a duodenal obstruction due to cancer recurrence, a stent was inserted. It was treated with 30Gy radiotherapy in 10 fractions (1 / day) for 2 weeks. Oncothermia was applied after radiotherapy, 2 to 3 times a week (August to October 2012).
Results:
T
he tumor markers decreased: CEA 5.42 to 4.44 (from August to October 2012). There were no side effects from the increase in temperature in the metal stent.
Reference: