Ovarian cancer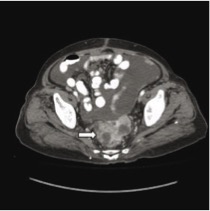 Ovarian cancer in diagnosis
After 12 sessions of Oncothermie
Researcher:
Dr. Tae Sig Jeung.
Hospital:
Department of Oncology, Kosin University Gospel Hospital, South Corea.
Patient:
70-year-old woman.
Diagnosis:
Ovarian cancer.
Treatment:
Surgery (October 2011), chemotherapy (November 2011) leaving due to toxicity. In January 2012, a new tumor mass was diagnosed in the left ovary and peritoneal carcinoma was diagnosed. There were 12 sessions of Oncothermia (3 times a week) from February 15, 2012 to March 19, 2012.
Results:
Reduction of tumor mass and ascites.
Referencia: