Neck and head tumors

Radiotherapy and Oncothermia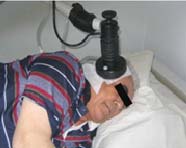 Partial remission

No side effects on vision
Researcher:
Prof. Dr. Renner
Hospital:
Kliniclum Nord, Nümberg, Germany
Patient:
67-year-old man
Diagnosis:
Inoperable cancer located in the sphenoid sinus. Squamous cell carcinoma
Treatment:
Radiotherapy
54 Gy and Oncothermia were applied (6 sessions of 60 minutes, immediately after radiotherapy). Oncothermia can be applied near the eye, without damaging it
Results:
Partial remission
Reference:
Szasz A. Szaszo. Case reports made by Oncothermia. Oncothermia Journal. 2013, 8:47-88
More information in Oncotherm Journal.