Oncothermia for the treatment of relapsed brain tumors
Retrospective clinical study carried out by the Onco-Ematology Department of the "Ospedali Riuniti Marche Nord" in Italy, to evaluate the efficacy and safety of Oncotermia (modulated electro-hyperthermia – mEHT) for the treatment of relapsed brain tumors.
Methods
Collected retrospectively data study on 164 patients affected by recurrent malignant brain tumors: glioma and astrocytoma.
The patients included in the study were diagnosed with malignant glioma or astrocytoma, with failure of previous temozolamide-based chemotherapy and radiotherapy, indication for treatment with Oncothermia as palliative setting.
Oncotermia was performed using a capacitive coupling technique that allowed the skin surface at 26°C and to reach 40-42.5°C inside the tumor for 20-60 minutes by applying a power of 40-150 Watts.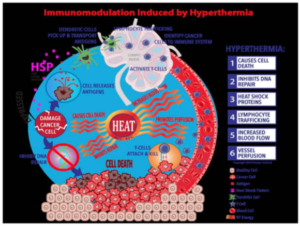 Results
The study sample included 164 patients with brain tumor, 115 of these (70%) had glioblastoma multiforme (GBM) and 50 (30%) had astrocytoma. Oncothermia was performed to 29 (25%) GBM and 28 (56%) of astrocytoma, whereas the remaining patients received the best supportive care (BSC).
Three months after Oncothermia, the median overall survival (OS) was 12 months (range 5-108) for GBM, and 17 months (6-156) for astrocytoma group.
We observed 2 long-term survivors in the AST and 1 in the GBM group that were treated with Oncothermia.
In conclusion, Oncothermia showed promising efficacy for the treatment of recurrent malignant glioma and astrocytoma, not only as a palliative treatment, but it can be a useful adjunctive therapy for patients.
It is important to highlight that Oncotermia is a non-invasive treatment, without toxicity and with local action.
Study published in Oncothermia Journal, Volume 17, October 2019.
You can consult the study at the following link.
If you want, you can find more information about Gliomas treated with Oncotermia on our website.
Social Share