Effectiveness of Oncothermia in pancreatic cancer
Clinical study carried out with the objective of investigating the incidence of Oncothermia (modulated electro-hyperthermia – mEHT) in the improvement of patients with pancreatic cancer in clinical stage IV.
Method
28 patients with advanced pancreatic cancer in clinical stage IV treated by more than 5 times of oncothermia were examined.
These patients had distant metastasis or peritoneal dissemination and were treated with several types of combination chemotherapy. Among them, 9 patients had the history of surgery for the primary tumour and 21 had no surgery.
Oncothermia using the Thermotron RF-8 heating device was administrated for 50 min each time just after chemotherapy 3 or 4 times in a month.
Results
In the response to the treatment:
At 3 months, CR 0%, PR 18%, SD 39% and PD 42%.
Survival rate was 97%.
At 6 months, CR 0%, PR 16%, SD 24% and PD 40%.
Survival rate was 80%.
At 12 months, CR 6%, PR 0%, SD 6% y PD 59%.
Survival rate was 41%.
At 18 months, CR 6%, PR 0%, SD 0% y PD 19%.
Survival rate was 25%.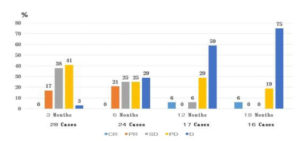 2 patients survived more than 2 years. Among 12 patients observed for these two years, two patients survived, and one patient is still in the state of CR. The survival rate in 2 years was 17%.
Although the number of the patients in our hospital is small, the outcome of them were superior to that of
the registered patients in the Japanese Association of Clinical Cancer Centers, who were treated without
oncothermia.
Conclusion:
The results in this study indicate that the treatment of  Oncothermia combined with chemotherapy have a possibility to contribute to prolong the survival of the patients even in the clinical stage IV.
Study published in Oncothermia Journal, Volume 17, October 2019.
You can consult the study at the following link.
If you want, you can find more information about pancreatic cancer treated with Oncothermia on our website.
Social Share